The Color Management Tab (Windows)
The Color Management Tab (Windows)
The "Color Management" tab is where you specify the color management profiles used for displaying images on your monitor and for editing and saving RGB images. ( macOS)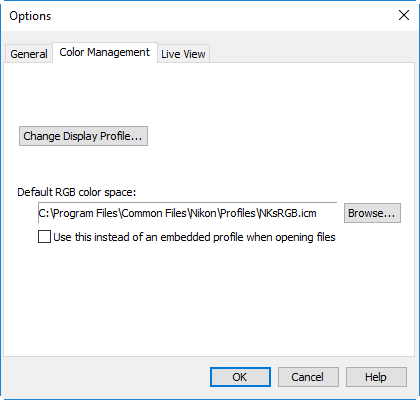 Change Display Profile

To choose a display profile, click Change Display Profile.

The "Color Management" window will be displayed. Select Use my settings for this device and click Add.

Default RGB color space

The output color-space profile used when working with RGB images is displayed here. Click Browse to choose a new default RGB profile. If Use this instead of an embedded profile when opening files is checked, this RGB color space profile will be used for all images. If it is not checked, the profile embedded in each image will be used.
Multiple Displays
In a multiple display environment, choose a single profile suited to the main display for viewing images.
Default Display Profile
The default Windows display profile is "NKMonitor_win.icm." This profile is sRGB color profile.
The Color Management Tab
Changes to settings in the "Color Management" tab also apply to NX Studio, ViewNX-i, and ViewNX 2. They are not reflected in Capture NX 2 (available separately) or in Capture NX-D.