File Format
To save RAW (NEF/NRW) images in JPEG or TIFF format, click the

button in the toolbar.

A dialog will be displayed where you can choose a file format and adjust such settings as compression and image size. Click Start to copy the file or files in the selected folder.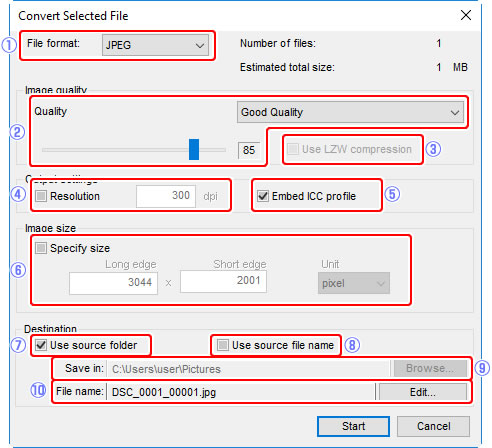 File format

Choose from JPEG, TIFF (8 Bit), and TIFF (16 Bit).

Quality (JPEG only)

Use the slider or pull-down menu to choose a value between 0 and 100. The higher the value, the lower the compression ratio and the higher the image quality; the lower the value, the higher the compression ratio and the smaller the file size.

Use LZW compression (TIFF only)

Compress TIFF files using "lossless" LZW compression.

LZW compression may sometimes increase file size when applied to 16-bit images.

Resolution

Select this option to choose the output resolution.

Embed ICC profile

Select this option to embed the current color profile in the image.

Specify size

Select this option to resize pictures saved in the new format. The new size can be entered in pixels, centimeters, or inches. When you enter a value for either Long edge or Short edge, the remaining value will automatically be adjusted to maintain the original aspect ratio.

Use source folder

Save copies in the same folders as the originals.

Use source file name

Save copies under the same file names as the originals. Two-digit numbers will automatically be added in ascending order to the file names if files with the same names as the original already exist in the selected folder.

Save in

If Use source folder is not selected, click Browse... to select a destination folder.

File name

If Use source file name is not selected, click Edit... to name the copies using selected prefixes, suffixes, and sequential numbering.