What Capture NX-D Can Do for You
What Capture NX-D Can Do for You
Capture NX-D lets you fine-tune pictures by, for example, adjusting brightness and hue, and can also be used to edit RAW images taken with Nikon digital cameras and save them in other formats.
Fine-Tune Pictures
With Capture NX-D, it's easy to adjust such settings as brightness and white balance. Certain settings, such as exposure compensation and Picture Controls, are available only with RAW images.


Copy Adjustments
Save adjustments and apply them to other images or copy them to other computers. Saved adjustments can be applied to multiple images using batch processing.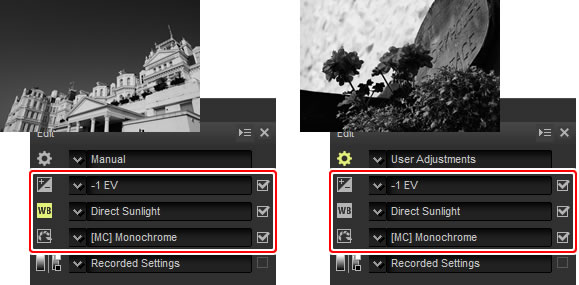 Save Pictures in Other Formats
Fine-tuned or processed RAW (NEF/NRW) images can be saved in JPEG or TIFF formats for use in other applications.

Color control points
Color control points make it easy to brighten, darken, or modify colors selectively, sparing you the hassle of masks and other hard-to-use editing tools.
Color control points apply only to colors in a selected range. Color control points apply only to the chosen point and to objects of similar color in the surrounding area, leaving objects of other colors largely unaffected.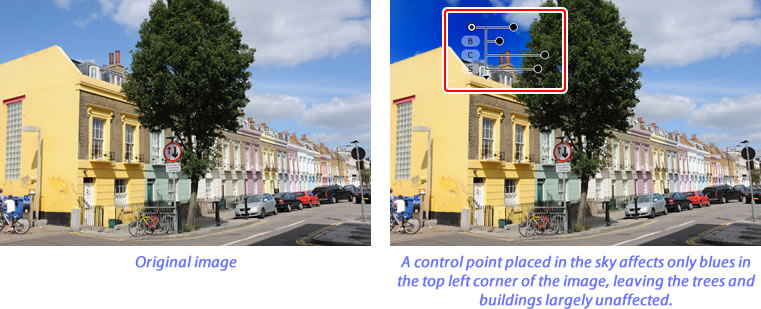 Adjusting the size of the area affected is quick and easy. Achieving the same effect in other applications would require careful and time-consuming selection of the area affected. In Capture NX-D, applying color control points to a specific area is quick and easy, as are later adjustments to the size of the area affected.


You can use as many control points as you need. The more points you add, the finer and more intuitive the editing.