The Toolbar
Use the toolbar to choose a view and access image adjustment tools.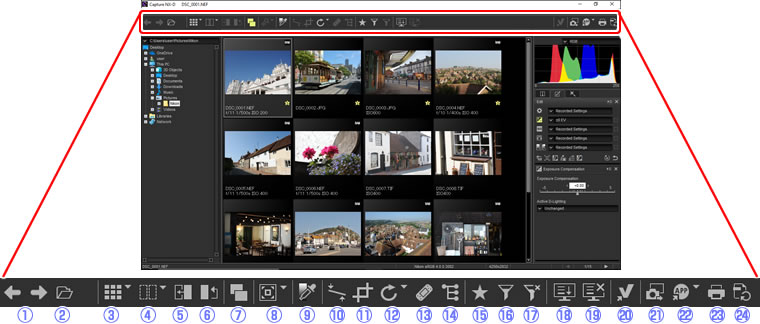 Back/Foward

Select the folder before or after the current folder.
Display a dialog where you can navigate to and open a folder.
Choose a view mode for the image area.
View images side-by-side. Choose from Compare Before and After Images and 2 Images.
Apply current adjustments to the "before" image for use as a reference when making further modifications.
Restore the "before" image to the state it was in before any adjustments were made.
If the folder contains images shot at image quality settings of "RAW + JPEG", select this option to list the RAW and JPEG copies separately.

View Tool

Access the fit, image viewer, zoom, and hand tools.
Click a point in the preview to adjust white balance so that the sampled point takes on a neutral gray color (gray point sample tool).
Straighten images.
Crop images.

Rotate

Rotate images 90°. The direction of rotation can be selected by keeping the button pressed.
Remove dust and scratches (auto retouch brush).
Adjust colors and brightness using color control points.
Filter images using the filter bar.
Filter images by a variety of criteria, including rating, label, and camera settings.
End filtering and view all images.
View batch process status.

Cancel Batch Process

Cancel batch processing.

ViewNX-i

View the current image or images in ViewNX-i. The images are displayed in their current state including any changes made using Capture NX-D and, in the case of NEF/NRW (RAW) images, without conversion to TIFF.
Import images using Nikon Transfer 2 (if installed).
Open images in an application and format previously selected using the Open With Application option.
Print the image currently selected or previewed in the image area.
Save images in JPEG or TIFF format. Adjustments are applied before the image is saved.
Changing the Appearance of the Toolbar
The appearance of the toolbar can be changed using the Customize Toolbar item in the Window menu; the default setting is Large Icon and Text. For illustrative purposes, the illustration above shows the toolbar with Large Icon selected and all icons active.
Large Icon and Text:

Large Icon: