NIKON IMAGE SPACE
Select pictures and click [Upload] in the toolbar to initiate upload.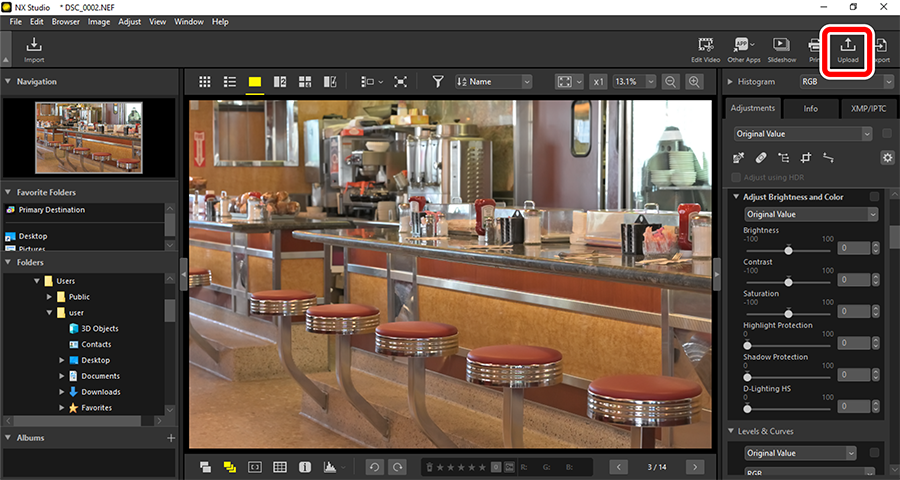 If you are not currently logged in to NIKON IMAGE SPACE, you will be prompted to do so. Clicking [Login] displays the [Web Service] section of the [Options] dialog.
Upload Settings
Clicking [Upload] displays upload settings.
[Upload Settings]

Adjust settings for pictures uploaded from NX Studio.

[Image Settings (Resize)]: Choose the size at which pictures will be uploaded.

[Select Album]: Choose a destination for the uploaded pictures. To upload pictures to a new album, select [New Album] and enter the album name.

[Add XMP/IPTC keywords as NIKON IMAGE SPACE tags]: Select this option to add image tags for the [Keywords] in the [XMP/IPTC] tab of the adjustments/info palette (

0

The Adjustments/Info Palette). Tags can be used for keyword searches in NIKON IMAGE SPACE.
[Add XMP/IPTC rating as NIKON IMAGE SPACE rating]: Select this option to keep the currently-selected ratings when pictures are uploaded (

0

Rating Pictures).

[Start]

Upload the pictures to NIKON IMAGE SPACE at the selected settings.

[Cancel]

Exit without uploading the pictures.
Supported File Types
For information on the types of files that can be uploaded, see NIKON IMAGE SPACE online help.