Viewing Shooting Locations
Choosing map view (

) when a folder containing pictures with embedded location data is selected displays the map. Shooting locations are shown by map pins (

or

).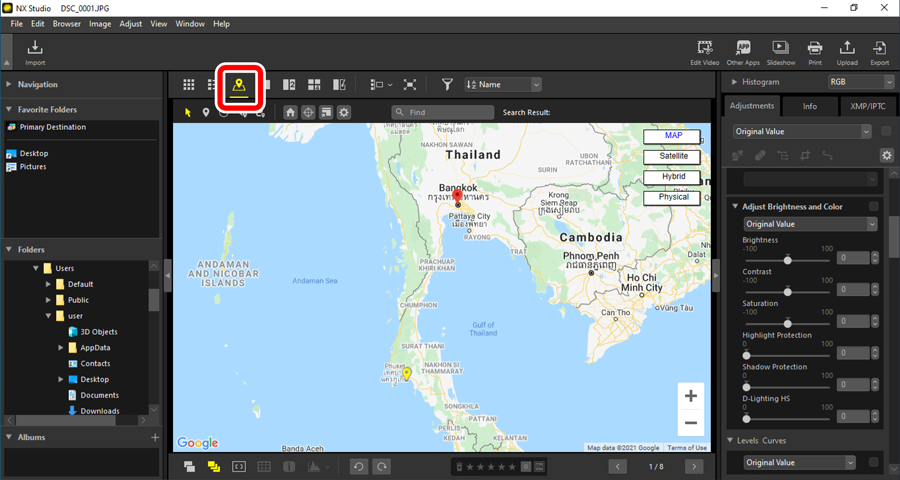 Starting View
The starting view varies with the picture selected and the number of pictures with location data in the current folder. Display options are available via [Map] > [Shooting Location] in the [Options] dialog (0 [Map]).
The filmstrip can be displayed using the filmstrip (
) button in the view area. Pictures with embedded location data are indicated by

icons (
). Selecting a picture centers the map on the pin (

) showing its location (
).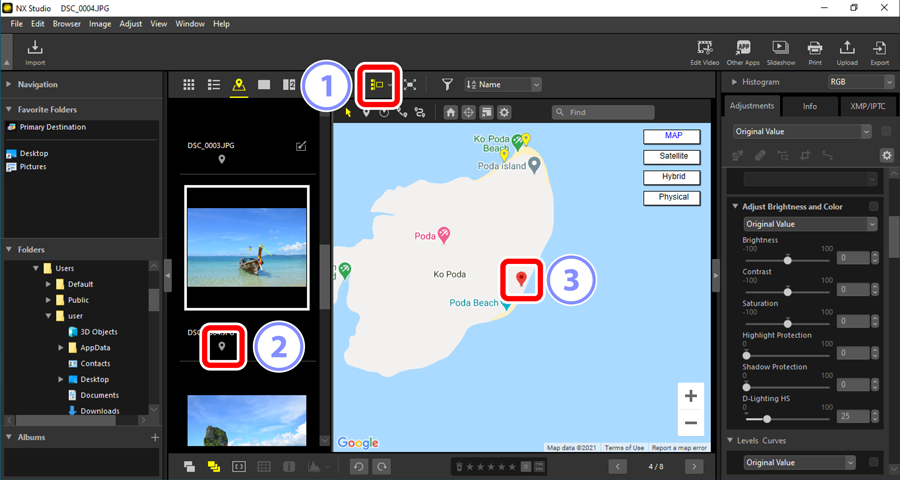 Shooting locations for pictures not in the current selection are shown in yellow (). Clicking a yellow pin () selects the picture and turns the pin red ().
Multiple pins can be selected by pressing the control (or in macOS, command) key and clicking each pin in turn.
The map can be scrolled using drag.
Pictures taken in the same location are shown by a single pin (). At some scales, pictures taken in different locations but in close proximity may also be displayed as a single pin ().
Viewing Metadata
Clicking a pin (

) on the map displays a pop-up listing metadata for the selected picture.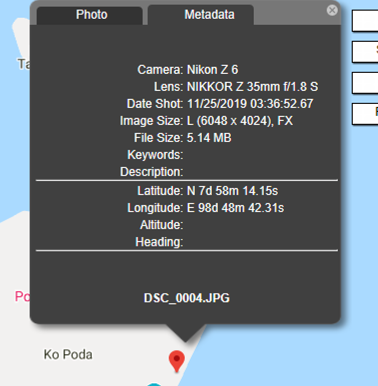 The pop-up contains a [Photo] tab giving the file name and showing the picture as a thumbnail. In the case of videos, the thumbnail shows the clip's first frame.
The camera name, date of recording, and other metadata for the picture are listed in a [Metadata] tab. Compass headings, points of interest, and other added data are also listed if available.
Where multiple pictures recorded in the same location or in close proximity are shown by a single pin (), you can page through the images by clicking or .
The pop-up can be closed by clicking the map or by clicking the button at the top right corner of the pop-up.