What Location Data Can Do for You
Cameras equipped with location data features can embed the current longitude, latitude, altitude, and time (UTC, or Universal Coordinated Time) into pictures as they are taken. Location data can also be added to pictures using optional location data (GNSS) units or via the SnapBridge app.
Shooting locations can be displayed in map view (

) in the viewer based on data provided by web map services.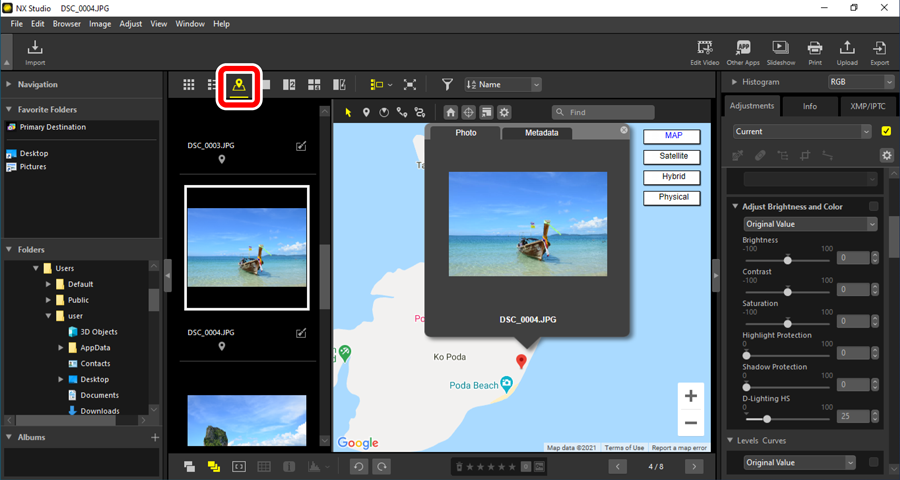 Points to Note When Using Maps
The map display uses Google Maps.
Metadata are provided via a service that obtains keywords from Wikipedia.
Use of the map feature requires an Internet connection.
Nikon accepts no liability for damages or other injury to the user or third parties arising from use of the map feature.
The online map and keyword-search services used in the map feature are provided by third parties and are subject to change or cancellation without notice.
Use of the map feature is accompanied by upload of longitude and latitude data to service providers.
Be sure to read the terms of service before using Google Maps. A link to the Google Maps terms of service is available in map view.
Nikon does not provide customer support for issues involving the use of Google Maps.
The "add location data" and "edit location data" features are available only with photos (NEF, NRW, JPEG, and TIFF files).
Depending on the accuracy of the original location data, the locations shown in map view may differ from the actual shooting locations.
NX Studio supports location data conforming to the World Geodetic System (WGS 84) and Japanese Geodetic Datum (Tokyo Datum). The map may not accurately display locations recorded using other geodetic systems.
Location data added or changed in NX Studio use the World Geodetic System (WGS 84).
The geodetic system on which location data are based is listed under [Location Info] in the [Info] tab of the adjustments/info palette.
This software uses the "Geonames web services" API.