The Retouch Brush

Watch and learn! Digitutor
Remove dust and scratches.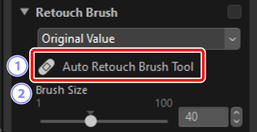 [Auto Retouch Brush Tool]

Selecting () this tool enables the retouch brush.

[Brush Size]

Choose the brush size.
Using the Retouch Brush
Display one or more pictures in single- or multi-frame view. This option cannot be used with thumbnails.

Activate () the retouch brush. You can also click the icon for the tool at the top of the adjustments palette.

Choose the brush size.

Brush Size

A brush larger than the defect you are attempting to correct may affect neighboring areas of the picture.

Keeping the mouse button pressed, drag the brush over the defect; the selected area will be shown by a translucent red line. Continue until the defect is completely covered.

Release the mouse button. The defect will be blended with the surrounding areas of the picture, removing it.
The Retouch Brush
The retouch brush copies data from surrounding areas of the picture automatically and pastes them over the defect.
It may not produce the desired results if defects are widespread, the tool is dragged a long distance, or the affected area is very large.
The time required to complete processing varies with the picture.