Viewing Videos
NX Studio can be used to play videos selected for display in single-frame view. Mousing over the viewer displays video playback controls.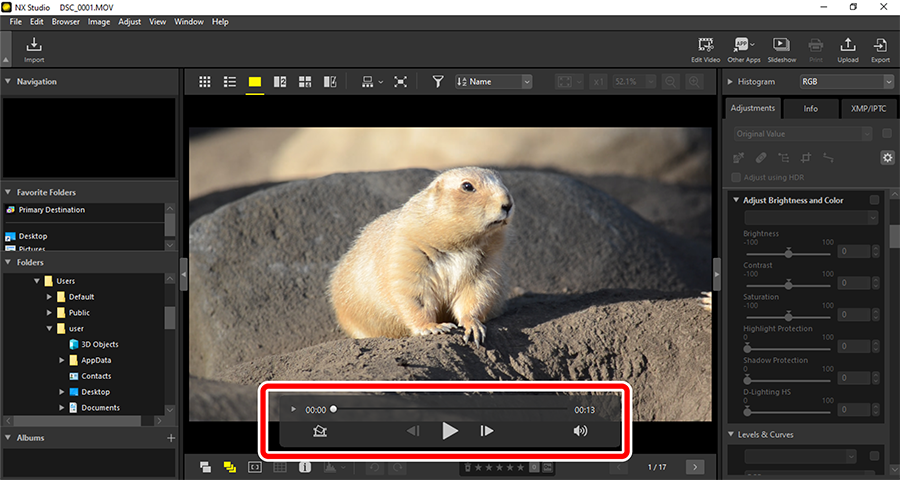 Video Playback Controls

Frame-by-Frame Display

Click to view the individual frames of the video as thumbnails. Drag the handles at either side to scroll to the desired frame (

0

Removing Unwanted Footage).

Playback Position

The current playback position.

Playback Slider

Shows the current playback position. Drag the slider to fast-forward or rewind.

Length

The total length of the current video.

Save Still

Save a still of the current frame.

Frame Rewind/Frame Advance

Rewind or advance the video a frame at a time. Clicking either button during playback pauses the video, after which it can be rewound or advanced a frame at a time starting at the selected position.

Play/Pause

Start, pause, or resume playback.

Mute

Toggle this button to to mute audio. Click again to enable audio.
Installing Video Codecs (Windows Only)
Depending on the file type, you may be prompted to install a video codec when attempting to display videos in the image viewer (

). Follow the on-screen instructions to install the codec.
Video Stills
To save the current frame as a still, click the "Save Still" button (

) in the video playback controls.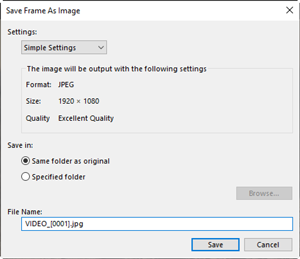 Select [Settings] > [Simple Settings] to save the still at the default compression and frame size.
To choose a different compression and frame size, select [Settings] > [Advanced Settings].
To choose the destination folder, select [Save in] > [Specified folder].
A file name can be entered in the [File Name] field.