Interval-Timer Photography
Take photographs at a selected interval until a specified number of shots has been recorded.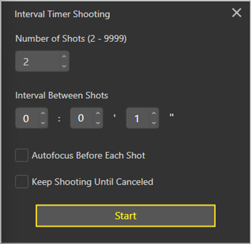 The [Interval Timer Shooting] display contains the following items.
[ON]/[OFF]: Enable or disable interval-timer photography. The settings in the interval-timer photography display can be adjusted when [ON] is selected.
[Number of Shots]: Choose the number of intervals from values between 2 and 9999.
[Interval Between Shots]: Choose the length of the interval between shots; values range from a minimum of 1 second to a maximum of 99 hours 59 minutes and 59 seconds.
[Autofocus Before Each Shot]: Select this option to adjust focus automatically between shots. Remove the check if you would prefer to focus at a fixed distance.
[Keep Shooting Until Canceled]: If this option is selected, interval-timer photography will continue until you click [Stop].
Click the shutter-release button to start interval-timer photography. To end interval-timer photography before the selected number of shots has been taken, click [Stop].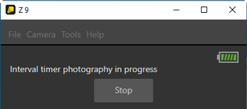 Interval-Timer Photography
Note that the actual time between shots during interval-timer photography is determined not only by the length of the interval but also includes the time needed to complete the exposures and perform such tasks as downloading and processing the photographs in NX Tether. As a result, the camera may be unable to take shots at the selected interval.
Camera controls cannot be used during interval-timer photography even if [Enable Controls on Camera Body] is enabled in the [Camera] menu.
(single frame) is selected for release mode during interval timer photography.