Step 6: Enable (or Disable) Autofocus
To turn autofocus [ON] or [OFF], click the [AF] button. If [ON] is selected when you click the shutter-release button in Step 7: Take Pictures, the camera will focus before the shutter is released. Use the camera to adjust autofocus-related settings. The shutter cannot be released if the camera is not in focus.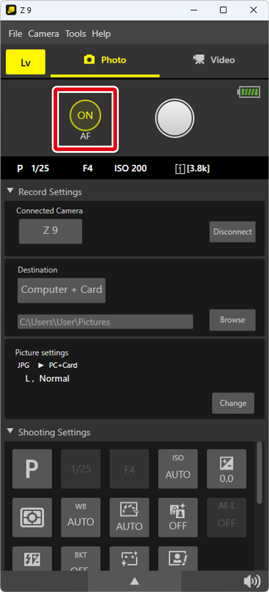 To disable autofocus, switch the [AF] button [OFF].
Autofocus is not available when the camera is in manual focus (MF) mode. To focus using autofocus, select an option other than MF as the camera focus mode.

[AF]
Removing the lens from the camera or attaching a non-CPU lens automatically switches the [AF] button [OFF], disabling autofocus.